A tropical crop may fill a niche for some Illinois specialty growers based on trials by Western Illinois University (WIU) School of Agriculture and the University of Illinois Extension.
Shelby Henning, WIU assistant agriculture professor, and Chris Enroth, U of I Extension horticulture educator, are studying ginger as a potential, alternative crop. If their 2021 crop is any indication, they're on the right track.
"It was the finest quality I've ever seen, like a new potato," Henning said of the colored roots. "The smell? It was like a reward."
The two educators have explored ginger and other unique crops for a couple of years. Last year, they grew five varieties of ginger, including a yellow variety from a Hawaiian grower, and even a variety of turmeric.
"Who thought you could grow ginger in Illinois? It's a Zone 11 tropical plant," Henning said.
Zone 11 is one of the warmest zones with no frost days and average minimum winter temperatures of 40 to 50 degrees. But ginger doesn't do well in extremely high temperatures, like those in Illinois summers, according to Enroth. Illinois soil temperatures in a high tunnel can reach as high as 90 degrees.
Those scorching, summer temperatures are shaping this year's expanded study with two collaborating growers in Galesburg and Extension educators in Adams, Jackson and Morgan counties.
A specialty crop block grant from the Illinois Department of Agriculture is funding ginger production using caterpillar tunnels. Enroth described a caterpillar tunnel as a temporary, high tunnel. Once warm temperatures are established, the plastic covering will be removed from the caterpillar-tunnel frame and replaced with shade cloth. The two educators plan to compare ginger yields in high tunnels and caterpillar tunnels at different locations.
Henning and Enroth pre-sprouted the ginger roots before planting. "Like a sweet potato slip, you cut eyes," Henning explained. They planted ginger in the university's high tunnel in May and harvested during Thanksgiving break.
Unlike some novel crops, ginger is familiar to many consumers as an ingredient in European, Asian and African cuisines, Enroth pointed out. "Ginger is kind of engrained in our culture already," he said.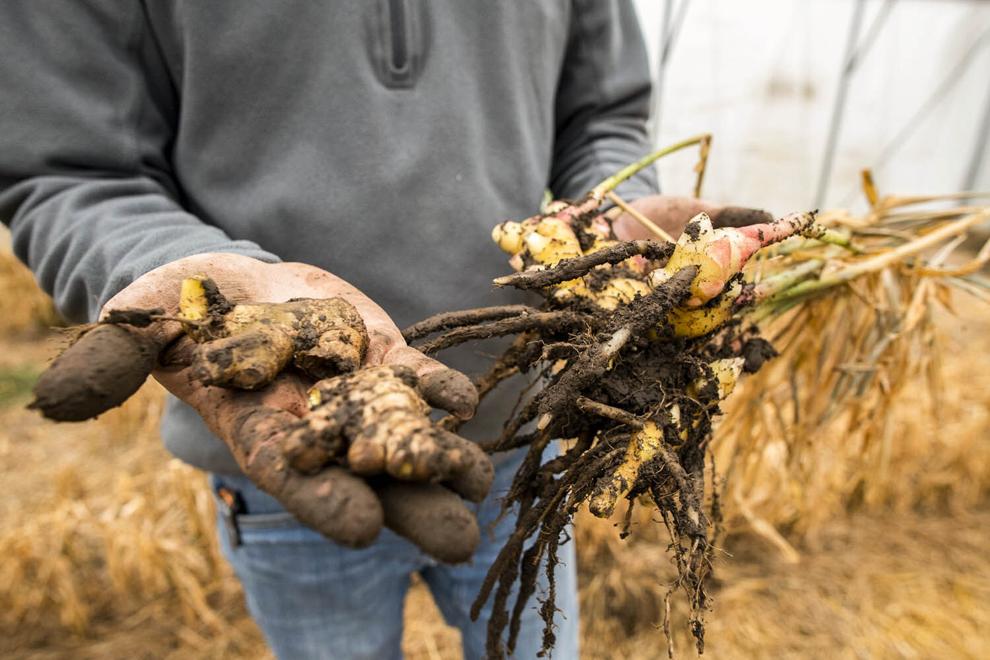 Familiarity and freshness fueled demand for a central Illinois grower's ginger. Enroth and Henning worked with the grower who planted rhizomes and harvested beautiful white and pink ginger. Using social media to promote her farmers market crop at $1.50 per ounce, the grower "sold out every time," Enroth recalled. "I was shocked it sold for $24 a pound."
To spark another type of market, Henning and Enroth donated 30 pounds of fresh ginger to the Macomb craft brewery, Forgottonia Brewing. The special ginger beer sold out.
Enroth advised growers interested in planting ginger to do so gingerly. "Don't turn over an acre. Think, 'Let's try a 50-foot row and see if we can sell it,'" he said.
For 2022, it's already too late to obtain ginger rhizomes, according to Enroth. He started securing a supply the first of the year from sources in Hawaii, the Caribbean and Virginia and encountered a shortage in Hawaii, which had input shipping problems.
But what the educators really want to harvest is knowledge for Illinois specialty growers. "We're trying to figure out how to grow ginger in Illinois," Enroth said. "In the end, we want to develop a one-sheet crop profile and say, 'Here's a sheet developed specifically for Illinois.' That's our main goal."
To view Enroth's recommendations for growing ginger and other specialty crops, visit bit.ly/3wafIPL.