Good morning, and welcome to our rolling coverage of the world economy, the financial markets, the eurozone and business.
UK house prices have begun 2022 with strong gains, as robust demand and a shortage of properties for sale continue to support the market.
Average house prices jumped by 0.8% in January, lender Nationwide reports this morning, which lifts the annual rate of house price inflation to 11.2%, up from 10.4% in December.

It's the strongest start to the year since 2005, and takes the average house price on Nationwide's survey to £255,556 mark.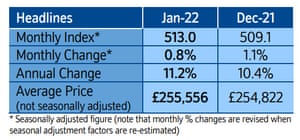 It's the sixth consecutive monthly increase in house prices, explains Robert Gardner, Nationwide's chief economist:
"Housing demand has remained robust. Mortgage approvals for house purchase have continued to run slightly above pre-pandemic levels, despite the surge in activity in 2021 as a result of the stamp duty holiday, which encouraged buyers to bring forward their transactions to avoid additional tax.


"Indeed, the total number of property transactions in 2021 was the highest since 2007 and around 25% higher than in 2019, before the pandemic struck.

"At the same time, the stock of homes on estate agents' books has remained extremely low, which is contributing to the continued robust pace of house price growth.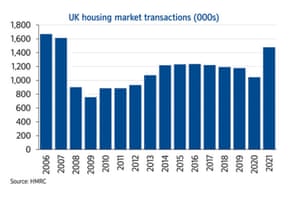 Higher borrowing costs might slow the market this year, though, as the cost of living crisis also squeezes household budgets.
The Bank of England is widely expected to raise UK interest rates on Thursday, from 0.25% to 0.5%, after inflation hit its highest levels in almost 30 years.
Also coming up today
Surveys of purchasing managers in the UK, US and eurozone will show how factories were hit by omicron, and the persistent supply chain problems, in January.
European stock markets are on track to open higher, as investors look to put January behind them.
As we blogged last night, the pan-European Stoxx 600 fell almost 5% last month, the worst month since October 2020.
On Wall Street, the US S&P 500 lost 5.3% during January, its weakest performance since March 2020, as worries about US interest rate rises hit tech stocks hard.
2022 has certainly been volatile, with energy stocks surging and technology notable weak:
Markets are adjusting to the Federal Reserve's phasing out of the massive stimulus provided over the last two years, says Naeem Aslam of Avatrade.
Moving forward, the American economy is expected to expand further, and companies are expected to report solid earnings supported by strong demand and a global economic recovery. Furthermore, the Federal Reserve is likely to continue tapering with extreme caution so that investors are not scared off and a tantrum is avoided.

This perspective was evident in Esther George's, President of the Kansas City Fed, comments that it is in "no one's interest to try to upset the economy with unexpected adjustments" and that Fed officials are working hard to keep shifts in its monetary policy "gradual" and less "disruptive".
The agenda
7am GMT: Nationwide house price index for January
8.55am GMT: German unemployment report for January
9am GMT: Eurozone manufacturing report for January (final reading)
9.30am GMT: UK manufacturing report for January (final reading)
9.30am GMT: US mortgage approvals for January
10am GMT: Eurozone unemployment report for December
1.30pm GMT: Canadian GDP report for November
2.45pm GMT: UK manufacturing report for January (final reading)
3pm GMT: JOLTs Job Openings (DEC)