Pōhakuloa Firefighters Earn Top Honors
February 18, 2022 at 5:27 am tdemartini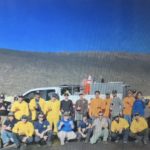 After competing against small fire departments across the U.S. Army Installation Management Command in the Pacific, first responders from U.S. Army Garrison – Pōhakuloa Training Area, earned the trophy for 2021 Small Fire Department of the Year.
PTA fire, which is composed of  21 firefighters, paramedics, rescue personnel, and associated equipment provides first responder services including firefighting, responding to motor vehicle accidents, rescuing lost or injured hikers and more.
Responsible for a 500 square mile response area, the PTA Fire and Rescue team works with Hawaii County Fire and Emergency Response though a mutual aid agreement and responds to incidents on Daniel K. Inouye Highway, and calls to Mauna Loa or Mauna Kea. PTA also regularly hosts Hawaii County Fire and Emergency responders for training at PTA, where we provide instructors and the use of our firefighting training facilities.
In 2021, PTA Fire assisted in a large-scale firefighting effort to contain the largest wildfire recorded in Hawaiʻi Island history, which burned nearly 50,000 acres and damaged homes, ranch lands, fencing, and even live stock.
In a press release Greg Simon, PTA's acting fire chief, said, "That effort in August of 2021 was my first large firefighting event with PTA and it truly showed me how special this department is, and what an incredible team we have here.  We see every day how important we are to the local community and that always gives our team a true sense of value."
Photo credit: Pōhakuloa Training Area
Tags: firefighters, Pohakuloa Training Area, rescue, U.S. Army
Read More Here