Kīlauea Visitor Center Closed January 19 & 20
January 12, 2022 at 5:15 am tdemartini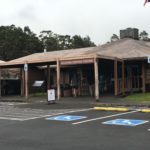 On January 19 and 20, Kīlauea's Visitor Center (KVC), including restrooms, lānai, administrative space and the Hawaiʻi Pacific Parks Association store, will be closed for termite treatment.  During an inspection, the park's facilities management crew noted significant termite damage and estimated that 25% of the attic framing in KVC had active termite nests. If not treated, the infestation will cause structural damage to the historic building and the park's cultural resource collections.
Portable restrooms will be available for visitors in the Kīlauea Visitor Center parking lot. All other restroom facilities will remain open, including Uēkahuna, Kīlauea Iki, Devastation Trail, Nāhuku and more. Park rangers will be available to assist visitors near the hula platform not far from the Volcano Art Center Gallery.
The Hawaiʻi Pacific Parks Association will set up a temporary retail area beneath a tent near park rangers, and its online store will continue to be available.