Hearts were racing as Kapiʻolani Community College Emergency Medical Technician (EMT) students faced simulated battle injuries and more during a tour of the Schofield Barracks Medical Simulation Training Center (MSTC) in February.
The tour and medical simulation demonstration showcased medic career opportunities available through the U.S. Army.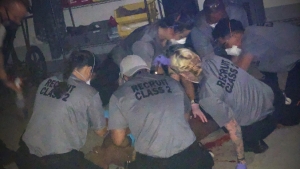 Part of the medic career overview included hands-on training. One lucky student gave an IV to the MSTC Site Lead Joe McFarlane, a 12-year veteran of the U.S. Army, who served as both a medic and a flight medic. All students were given the opportunity to perform life-saving measures on the life-like mannequins with various battle injuries.
"We didn't have time to think—only time to take what we knew and apply it," said Donovan Gomes, EMT student.
In order to simulate the high-stress experience of life saving, students were first put through a cardio exercise, helping to increase their heart rates. They then ran into a dark room, filled with smoke, strobing lights and loud noises, and, as a team, had to work to render life-saving aid to the medical mannequin on the floor.
"It was a great experience," said EMT student Kenn Andrade. "This was something that we hadn't really done before, and it prepared us for the real world. We had to use the skills that we learned in class and apply them."
The Schofield Barracks MSTC is one of only 23 simulation training centers Army-wide that provides scenario-based, combat-focused medical simulation training to treat casualties and save lives on the battlefield.
"The experience we had at Schofield was very important for these individuals to apply what they were taught in a true-to-life scenario provided by the simulation center," said Assistant Professor Edward Caballero. "Being able to focus on what they needed to do through the stressors gave [the students] a leg-up when they go out into the field and start working on the ambulance. I think that this will prepare them for the chaos that they may see."
Graduates of the EMT program have the opportunity to apply for and start as a higher ranked medic in the U.S. Army. When they enter as an EMT, they are allowed to accelerate within Advanced Individual Training because of their previous educational foundation. In addition, the U.S. Army offers full- and part-time opportunities, with enlistment bonuses up to $50,000 and career-specific bonuses up to $40,000.
EMT student Jeff Rubonal said, "This gives us a little bit of a grasp on how the real world operates. Overall, the experience was very immersive, very educational, and honestly I think that it should be implemented for future classes."
—By Katie Cech