HONOLULU (KITV4) — The head of training at the Hawaii Department of Public Safety (PSD) was arrested Thursday morning.
Investigators with the Hawaii Department of the Attorney General arrested J. Marte Martinez at around 9:45 a.m. at her office in Iwilei near Dole Cannery.
She's the administrator of PSD's Training and Staff Development Office. 
Martinez is charged with 14 counts: two counts of perjury, six counts of tampering with a government record, and six counts of unsworn falsification to authorities.
Perjury is a Class C felony, punishable by up to five years in prison and a $10,000 fine. Tampering with a government record and unsworn falsification to authorities are both misdemeanors, punishable by up to one year in jail and a $2,000 fine for each count. 
Martinez is accused of falsifying her college transcripts and lying about her educational background to get job promotions while at PSD.
As the public safety training officer, Martinez is in charge of training the state's deputy sheriffs and corrections officers, along with the recruits, and PSD's civilian staff.
"The Department of Public Safety holds their employees regardless of rank or title to the highest standard of integrity and will hold them accountable if they breach the public's trust," said PSD director Max Otani. "However, as we await the outcome of the investigation, it is important to keep in mind that everyone is presumed innocent until proven guilty."
After being arrested, Martinez was taken to the Sheriff Division's booking station on Keawe Street in Kakaako.
She was released after posting $11,000 bail.
Martinez is accused of lying about her educational background on state job applications to get promoted within the department and even forging transcripts.
According to court documents, Martinez made false statements to the Hawaii Labor Relations Board in December 2019, when she was questioned about her degrees.
She's also accused of submitting fake transcripts from Southern Oregon University, and the University of Northern Virginia.
Martinez is also accused of lying in 2017, while applying for the positions of public safety training officer, and professional standards and accreditation manager.
Court documents allege Martinez also lied on her job applications in May 2016 when she applied for the position of performance based management coordinator, and in September 2014 when she applied for the position of firearms training specialist.
In May 2015, Martinez was praised in a PSD newsletter, in an article titled: "Marte Martinez — Not Your Ordinary Trainer."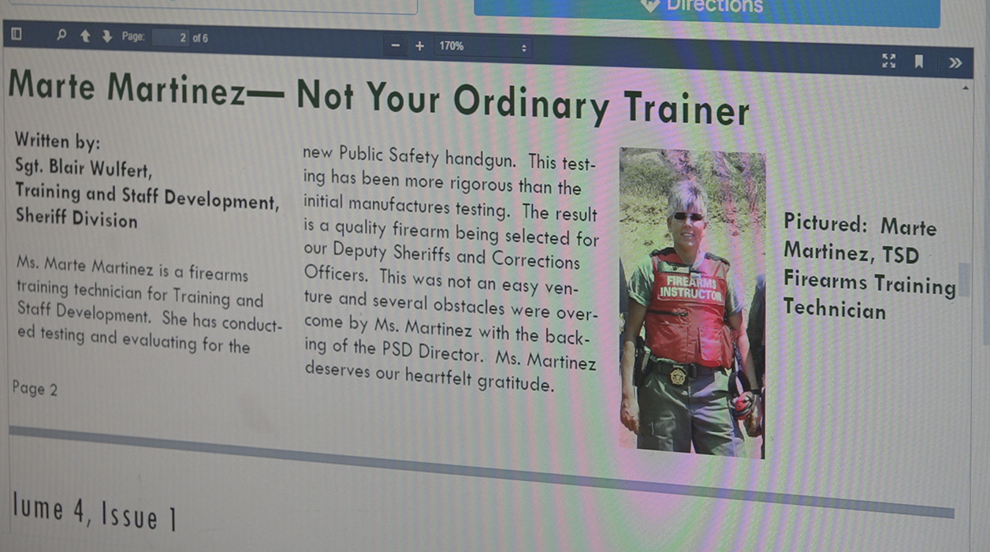 The article said Martinez was a firearms training technician, and did testing and evaluating for the department's new handgun. The article concludes with: "Ms. Martinez deserves our heartfelt gratitude."
State officials were made aware of and launched an investigation into the allegations in 2019. Despite being under investigation, Martinez has still been working for PSD.
When asked about the status of Martinez's employment, PSD spokesperson Toni Schwartz said: "In accordance with 92F-14, the Department is prevented by law from disclosing leave status of employees. All the Department can say is that the individual is employed with the Department."
Martinez is scheduled to be in court next week Thursday, April 14 for her arraignment and plea.