DOH Reports 1513 New COVID-19 Cases Statewide
January 31, 2022 at 3:57 pm tdemartini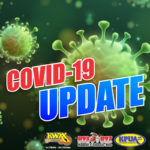 The State Department of Health reports 1513 new cases of coronavirus with 1 new COVID-19 related death.  The following data includes confirmed and probable cases up until Saturday, January 29, 2022.  Full data is posted on the State COVID-19 dashboard and on the DOH Disease Outbreak & Control Division website: hawaiicovid19.com/dashboard.
STATEWIDE COVID-19 COUNTS:
Total Cases  219,288
New Cases: 1513
Deaths: 1,181
Daily Case Average: 1938
Current Hospitalizations: 344
Fatality Rate: .5%
Cases Reported in the Last Two Weeks: 41,880
The DOH reports 159 new cases of coronavirus with no new COVID-19 related deaths on Hawaiʻi Island.
HAWAIʻI ISLAND COVID-19 COUNTS:
Total Cases: 23,466
New Cases: 159
Deaths: 164
Daily Case Average: 236
Current Hospitalizations: 29
Fatality Rate: .7%
Cases Reported in the Last Two Weeks: 4757
Kauaʻi
New COVID Cases: 161
Total COVID Case Count: 9823
Maui
New COVID Cases: 205
Total COVID Case Count: 27,408
Oʻahu
New COVID Cases: 956
Total COVID Case Count: 153,552
Tags: COVID-19, Hawaiʻi County, Kauaʻi, Maui, Oʻahu, State of Hawaiʻi Department of Health
Read More Here